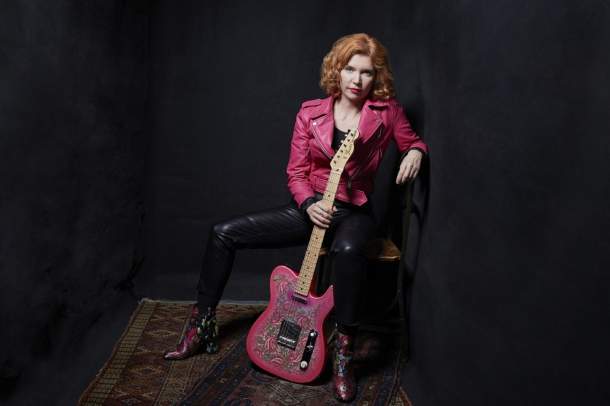 Canadian blues guitarist and singer SUE FOLEY earns three Blues Music Award nominations for her Blues Foundation CD Pinky's Blues
Pinky's bluesStony Plain Records' new album from the award-winning blues guitarist/singer Sue Foley, earned three nominations from the Blues Foundation's recently announced nominees for the 43rd Blues Music Awards. Foley earned nominations for "Album of the Year", "Traditional Blues Album", and "Traditional Blues Female Artist".
"I'm thrilled with these three Blues Music Award nominations," Texas-based Sue Foley said after hearing the news. I'm proud to have made a real blues album and I'm glad people like it.
Blues Foundation members are invited to vote for the Blues Music Awards. Voting will be open to current Blues Foundation members only until 11:59 p.m. CT on Friday, March 18, 2022. To vote, log into your Member Portal and once logged in, the link to the BMA ballot will be available at the top of the page.
To become a member of the Blues Foundation, visit www.blues.org and click the Join button to learn more about the different membership levels and how to easily and securely register online. Upon confirmation of membership, New Members and New Members will receive instructions on how to access the 2022 Blues Music Awards ballot.
Featuring several Sue Foley originals, plus songs from some of her favorite blues and roots artists, Pinky's Blues features Sue Foley (guitar, vocals), accompanied by Chris "Whipper" Layton (drums), Jon Penner (bass) and Mike Flanigin (Hammond B3 organ), who also produced the album. The legendary Jimmie Vaughan joins special guest on rhythm guitar on the track "Hurricane Girl."
Pinky's Blues is the sequel to Sue Foley's award-winning album The Ice Queen (2018). Foley's new album is raw electric guitar playing through the back roads of Texas blues, with Foley's signature pink paisley-patterned Fender Telecaster, "Pinky," at the wheel.
Foley won "Best Traditional Woman (Koko Taylor Award)" at the 2020 Blues Music Awards in Memphis, was nominated for a Juno Award (Canadian Grammy) and she won "Best Guitarist" at the Toronto Maple Blues Awards . . Over the past few years, Foley and his band have maintained a rigorous touring schedule across the United States, Canada and Europe. Some highlights were appearances at Love Rocks NYC (with Cyndi Lauper, Dave Mathews and Tedeschi Trucks) at the Beacon Theater (NYC), guest appearances with Jimmie Vaughan (opening for Eric Clapton) at the Royal Albert Hall in London, London Jazz Festival Montreal, Ottawa Bluesfest (with Buddy Guy), Moulin Blues (Holland), NPR's Mountain Stage (with Bela Fleck) and The Jungle Show (with Billy F Gibbons and Jimmie Vaughan) in Austin, Texas.
Sue Foley Tour Itinerary
February 19 Continental Club – Austin, TX
February 20 Blue Jay Listening Room, Jacksonville, FL
February 21 Keeping the Blues Alive at Sea – Miami, FL
March 3 Zebulon – Los Angeles, CA
March 4 Hop Monk Tavern, Novato, CA
March 5 Delta Blues Festival – Antioch, CA
March 6 Moe's Alley, Santa Cruz, CA
March 10 Mary Lim Theater – Kelowna, BC
March 11 Rio – Vancouver, BC
March 12 Hermann's Upstairs – Victoria, BC
March 13 The Queens – Nanaimo, BC
March 14 – 20 SXSW – Austin, TX
March 25 Bugle Boy – Le Grange, TX SOLO EXHIBITION
April 6 Natalie's Grandview – Columbus, OH
April 7 Sportsmen's Tavern, Buffalo, NY
April 8 Abilene, Rochester, NY
April 9 City Winery, Boston, MA
April 11 Iridium, New York City, NY
April 13 Paradise Theatre, Toronto, Ontario
April 14 Empire Theatre, Belleville, Ontario
April 22/23 Arts Commons, Calgary, Alberta
Additional dates to come….