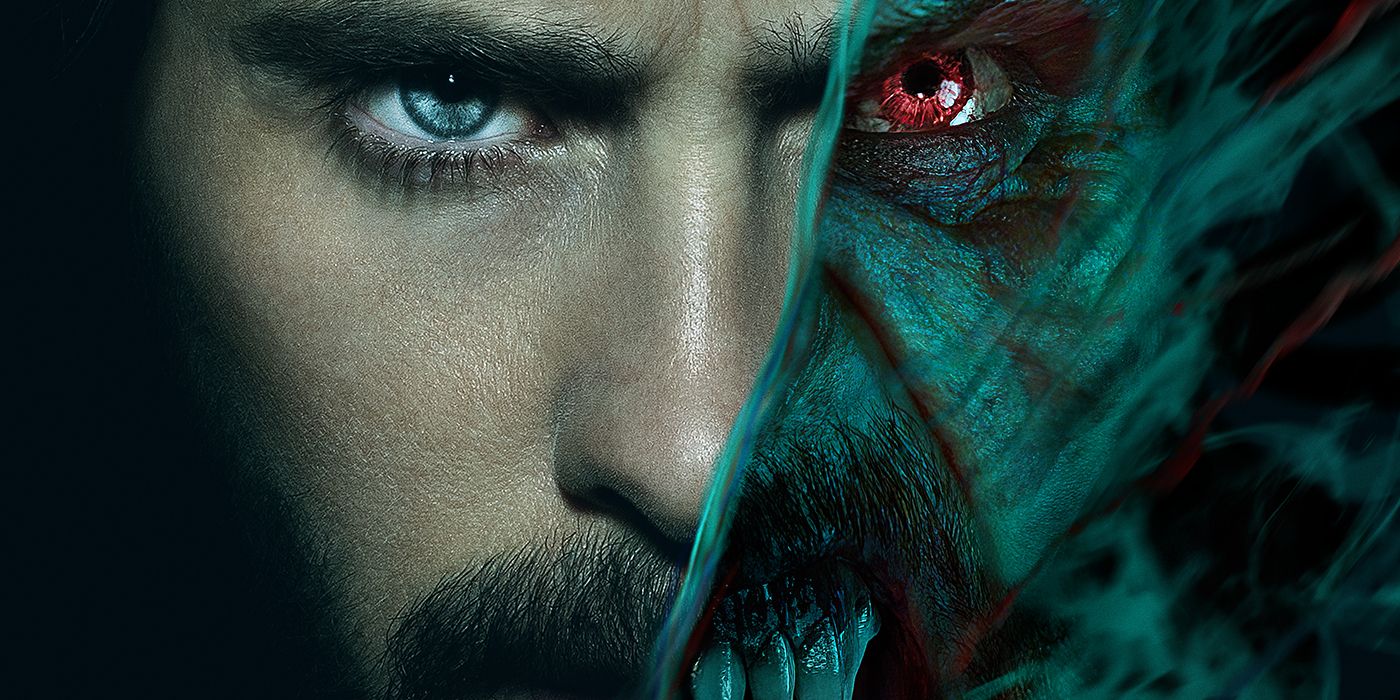 Morbius' new poster is a horrific callback to the first Venom movie
A new horror-fueled poster for Jared Leto's Morbius returns to the poster for Tom Hardy's debut movie Venom.
Horror-filled new poster for Sony Pictures' Marvel spin-off movie Morbius highlights the duality of Dr. Michael Morbius (Jared Leto) – and pays homage to Tom Hardy's Venom.
The poster features a close-up of Morbius' face, which is split down the middle, but not quite symmetrically. On the left side we see his normal human face. On the right, we see the living vampire starting to settle in – with his red eyes, pale skin and razor-sharp fangs. The poster slogan reads, "A New Marvel Legend Is Coming."
RELATED: Morbius: Spider-Man Spinoff Releases Jared Leto's Dramatic Transformation Scene
The image is eerily reminiscent of the main poster used to promote Sony's 2018 Marvel spin-off film Venom, with Tom Hardy as the Mortal Protector. This poster, which is a bit more symmetrical in its makeup, shows half of Hardy's Eddie Brock human face while the other half is occupied by the Venom symbiote. 2018 Venom eventually received a sequel in the form of Venom: let there be carnage, which hit theaters earlier this year.
Notably, Sony seems to be leaning heavily on the idea of ​​its various Spider-Man spinoff movies being connected, with Morbius himself even dropping the Venom name in Morbius'official trailer, released earlier this month. "I'm Venom," Morbius said before growling and showing his fangs. "Just kidding. It's Dr Michael Morbius, at your service."
RELATED: First Spider-Man: Into The Spider-Verse 2 Movie Debuts Spider-Man 2099
Created by Roy Thomas and Gil Kane, Morbius the Living Vampire first appeared in the 1971s The Incredible Spider-Man # 101. While Morbius began his life as a villain, fighting Spider-Man and Blade, the character eventually became an anti-hero in his own right and starred in several solo series over the years.
Before Sony gives the green light to a Morbius solo film with Leto in the title role, The Living Vampire appeared in a deleted scene from the New Line Cinema Marvel movie in 1998 Blade, played by director Stephen Norrington. There were tentative plans for Morbius to appear in Guillermo del Toro Blade II in 2002, although Marvel ultimately denied the director the rights to the character.
RELATED: Spider-Man: Across the Spider-Verse Writer Confirms Parts 1 & 2 Are Done At The Same Time
In addition to Leto, Sony Morbius stars Matt Smith, Adria Arjona, Jared Harris, Al Madrigal and Tyrese Gibson. Additionally, the film sees Michael Keaton reprise his role as Adrian Toomes / Vulture from the 2017 Sony and Marvel Studios Marvel Cinematic Universe film. Spider-Man: Homecoming.
Catch the rise of the living vampire when Morbius hits theaters on January 28, 2022.
KEEP READING: The Death of Doctor Strange Brings Blade's Most Iconic Scene to Comics
Source: Sony Pictures Entertainment